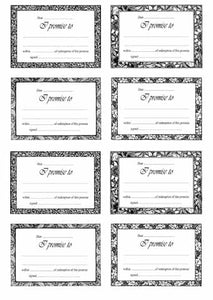 Promises - The most precious gift you can give **A4 DOWNLOAD***
£0.00

£0.00

Save

£1.00
Tax included.
---
---
The most precious gift you can give,
Is the gift of your time and attention.
Prints on standard A4 size paper 
Download a sheet of promises. Print off as many as you need. Cut out, colour and fill them in. Decorate a recycled box or jar to keep them in (top it off with treats if you like) and give a gift that will make memories, year on year. 
A great antidote to the family member who can't help but fill your child's life with pointless stuff. Just hand them a blank sheet and ask them to give their time instead. 
So, whether it's
"Dear Tom, I promise to build a den in the garden with you, within 1 day of redemption of this promise, signed Dad"
"Dear Nanny, I promise to read a book with you, within 2 hours of redemption of this promise, signed Georgia"
or
"Dear Maria, I promise to take you out for a romantic meal, within 1 week of redemption of this promise, signed Dave"
You'll be making time and memories together.